Im so happy to share a love of mine... naww its not the guys this time.. but it is my love for antique crocks.. well heck they dont even have to be antique.. I just love crock-ware period. Especially the big ol' bowls.. and since they are all high upon my shelves I couldnt get a good pic of them... so I took a pic of the ones I could. And my favorite of all.... which oddly isnt a bowl at all. Anyway... here we go..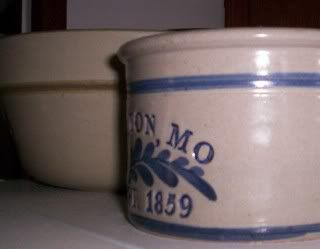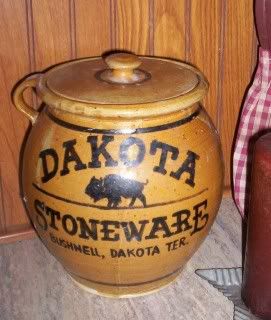 The first is a pic of a crock my brother got me one year from Fulton, MO... and in the background is a very nice large bowl that my Mom presented me for my birthday a few years back. The second pic is a crock jug like thingiemigger that I bought when out in South Dakota.. Got it at a place right across from the famous
Corn Palace
in Mitchell, South Dakota in 1998.
Im so happy to have this one thing to collect... and although I havent purchased one in a while... still everytime I pass an auction or antiques place.. or even a flea market I always go straight to the crocks and wish my lil heart for another to add to my collection. ~Oh I almost forgot to mention that I have been handed down a few crocks in my life too.. They are on top of my shelves as well. One set I got at my ex-husbands Grandparents auction..no telling how old those bowls are... but I will always treasure them.